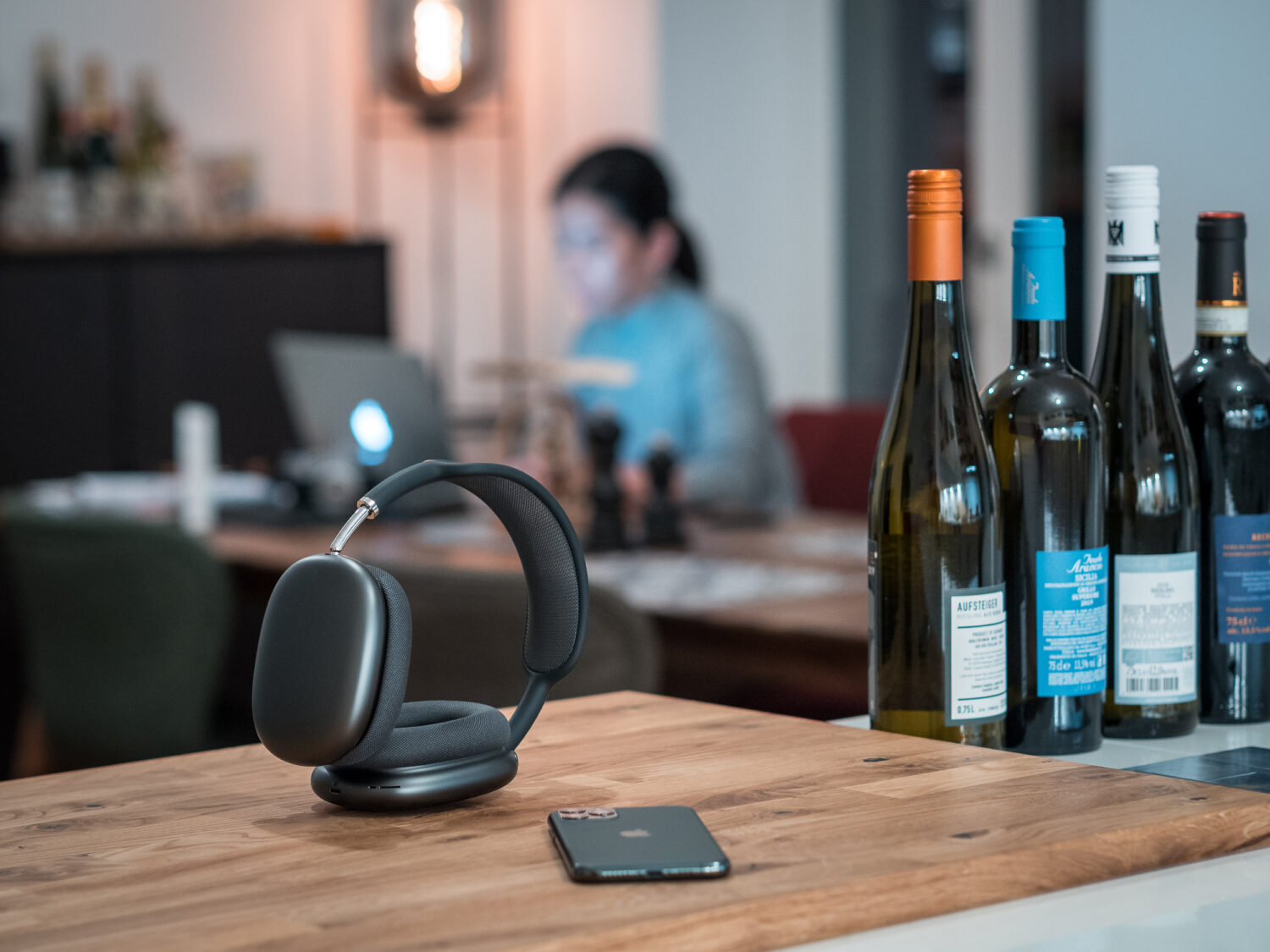 Here are my impressions of the Apple AirPods Max. There's quite the hype going on around these. Let me jump in and share my impressions of these 600 € expensive headphones.
Rumors Leading Up to the Release
Why would a hardcore audiophile be interested in the Apple AirPods Max? Well, I enjoy being in the Apple eco system quite a lot and I also follow some of the news portals that cover Apple rumors. These ANC headphones do not come as a surprise. It has been long rumored that Apple wants to enter the hifi market. For that, they have also hired a few well-known audio engineers that were successful with other Bluetooth headphones. It was clear that Apple wants to do better with this product than with Beats.
Around two months ago, rumors were saying Apple was ready to launch a true-fidelity "Studio" or "Pro" headphone for around $500. That's when I knew that I have to put some cash aside. Fast forward to today, I received and unboxed the new Apple AirPods Max. Yes, from all the names that were rumored, "Max" is much worse; classic Apple. So deep down I was hoping for a sound-first headphone with some quality of life features added on top. As it turns out, it's a feature-first headphone with good enough sound quality.
Build Quality
Let's make this short. Ever since the iPhone 4, Apple has become the epitome of perfect build quality (along with a bunch of -gates). The metal build of the AirPods Max are no exception. Low tolerances, premium materials, smooth edges. Simply Seamless.
Weight Issues?
I do not have any weight issues in the slightest. There's a lot of talk about the 380g the APM put on the scale. But are the people that are complaining even interested in headphones? Seriously, the APM are nowhere near heavy. They feel durable, but not like they add unnecessary weight. I could comfortably headbang to Metal music.
The Headband Revolutionized?
When Apple released the AirPods Pro earlier this year, it was embarrassing that Apple had to show us how we're doing in-ears wrong. The APP are designed superbly with highest comfort in mind. They made me feel stupid that I keep shoving IEM deeper and deeper.
Well, Apple did it again. Just like that, they show us what the best headband design is. The arched headband does a formidable job at weight distribution and feeling lightweight.
Comfort
Hands down, the comfort is simply superb. The ear cups are spacious but the design still looks relatively flat. The genius headband design adds to that. I can already tell that I will be wearing these a lot because of comfort and convenience.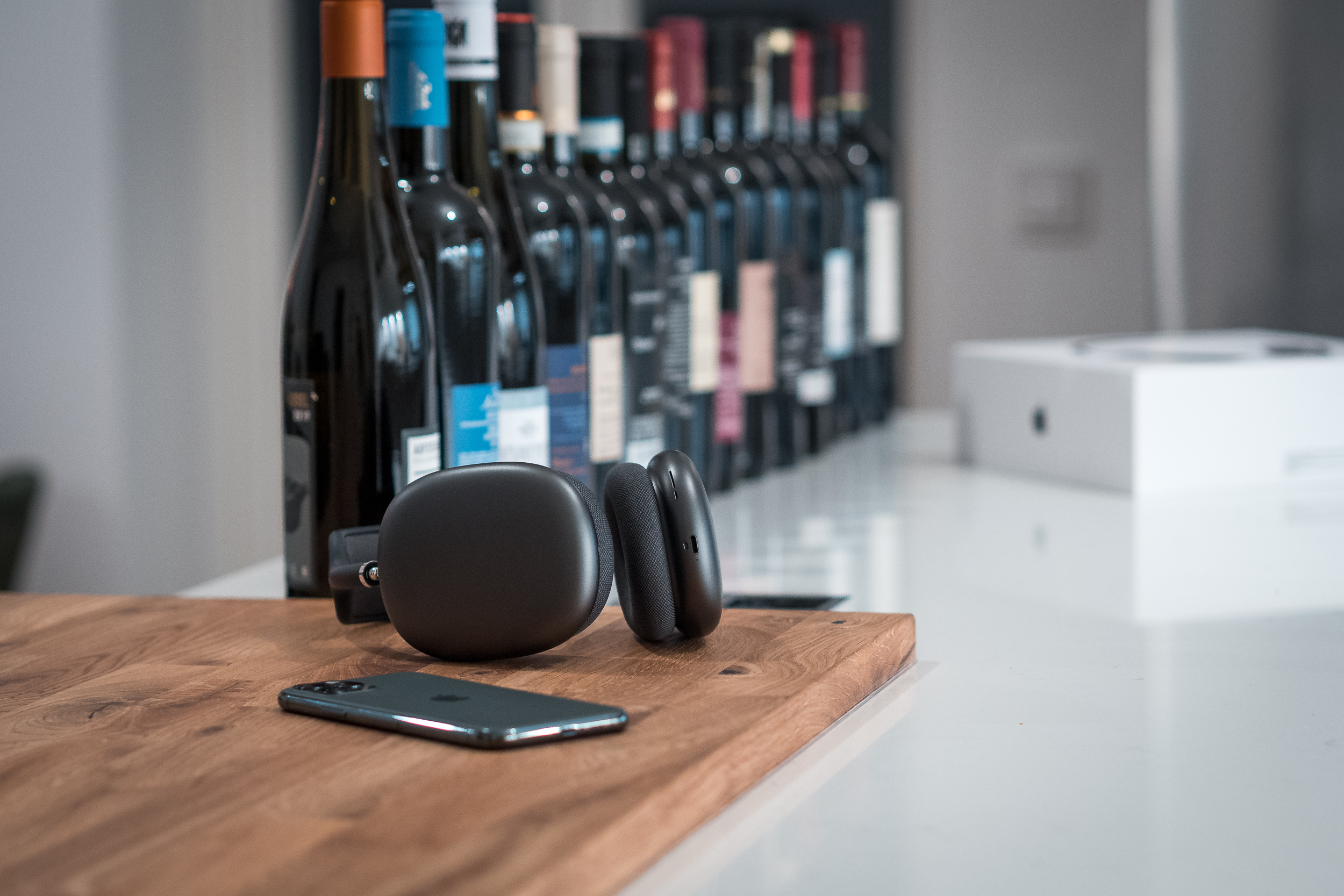 Features
It should be very clear to everyone that for the asking price you are not paying for sound quality alone. Of course, like always, you are paying for the name Apple. But there are also a bunch of noteworthy features. Most prominently, of course, is the Active Noise Cancellation that is accomplished by 9 microphones per side. If you're interested in ANC performance, I recommend to cut this short and view this video by iPhonedo instead:
While Faruk from iPhonedo is buoyed up about the Transparency mode, I have to say that I notice some artificial sharpness with s-sounds, especially with my own voice. Overall, it is still a killer feature that I also absolutely love about my AirPods Pro, but it's not perfect quite yet.
After successfully pairing the new AirPods Max, you will be automatically introduced to 3D Audio by a sound demo. The demo does indeed sound impressive and reminds me of the crazy surround tech by KLANG:technologies. However, this is nothing you can use while listening to ordinary music in stereo.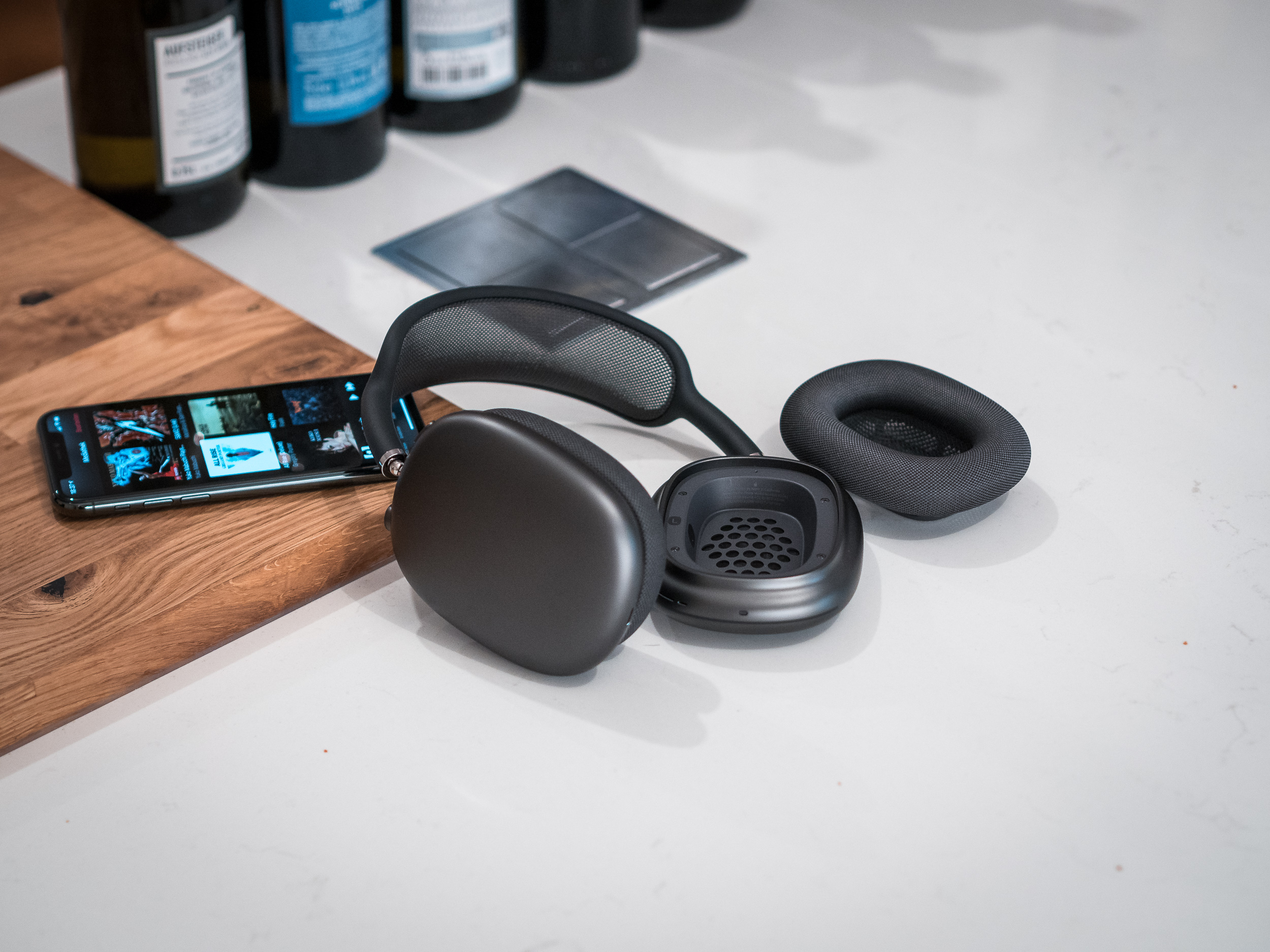 Sound Quality
My audiophile heart feels a little bit stabbed. Unfortunately, the AirPods Max have not met my expectations. To be fair, the very enthusiastic reviews by average consumers heavily boosted my hopes. Just to make this clear, this is not an audiophile headphone.
Tuning
Crinacle has already released his measurements of the Apple AirPods Max. My first impressions easily suggested a non-linear bass boost, some warmth in the midrange and a little sizzly treble. The APM is not completely off the track and, overall, the tuning is much better than many consumer headphones. But these are not the headphones that will strike you with unheard realism.
Bass
The low-end is clearly boosted. Apart from the fact that the bass can sometimes be too prominent, the tuning is actually quite enjoyable. The rumble can cause some fatigue, though, and it lacks the detail and texture I was hoping for. Fortunately, the APM are not as punchy and in-your-face like the multiple Beats headphones that preceded them – or how I remember Sony's ANC offerings. Apple could have done a lot worse here.
Mids
The midrange is probably most important for the timbre or overall realism of notes. I can't think of a single consumer headphone that has done this right. Apple's tuning is quite a bit better than your average headphone, but also nowhere near the "Studio" or "Pro" appeal that was rumored. Sometimes the notes sound dull and sometimes tinny, occasionally bloated and then hollow. There is an uneven tuning that creates some dynamics and colors, but ultimately never sounds right. Darker voices sound too thick while higher-pitched notes drift into brightness. I actually think Apple did a mildly better job with their TWS AirPods Pro.
Treble
The AirPods Max have impressive treble extension, but the top-end seems excessively boosted. The high frequencies can sound brittle – and just like with the mids – overly focussed on harmonics instead of fundamentals. I wouldn't be surprised if some users are wowed by the detail retrieval of the treble. Personally, I think the tuning doesn't perfectly match the product's purpose as I have encountered audible compression artifacts over Bluetooth. Content of lesser optimal production can also be less forgiving. however, I am hoping the APM can actually help the YouTube community to better check their audio tracks before uploading.
Resolution and Soundstage
From an audiophile perspective, there is really nothing to write home about in regards to resolution or soundstage width. However, there is also nothing fundamentally wrong with either. Separation of instruments is well done, but their imaging and placement is diffuse and not completely true to the recording. Sometimes I'm impressed with great depth, but then again it can sound flattened. Just as with the timbre, everything feels slightly displaced and not life-like, both in terms of resolution and soundstage. The bottleneck seems to be the wireless connection. With Rock and Metal, the compression in the treble is too obvious. Also, there is an audible (but quiet) operating noise from the APM, which definitely limits the resolution.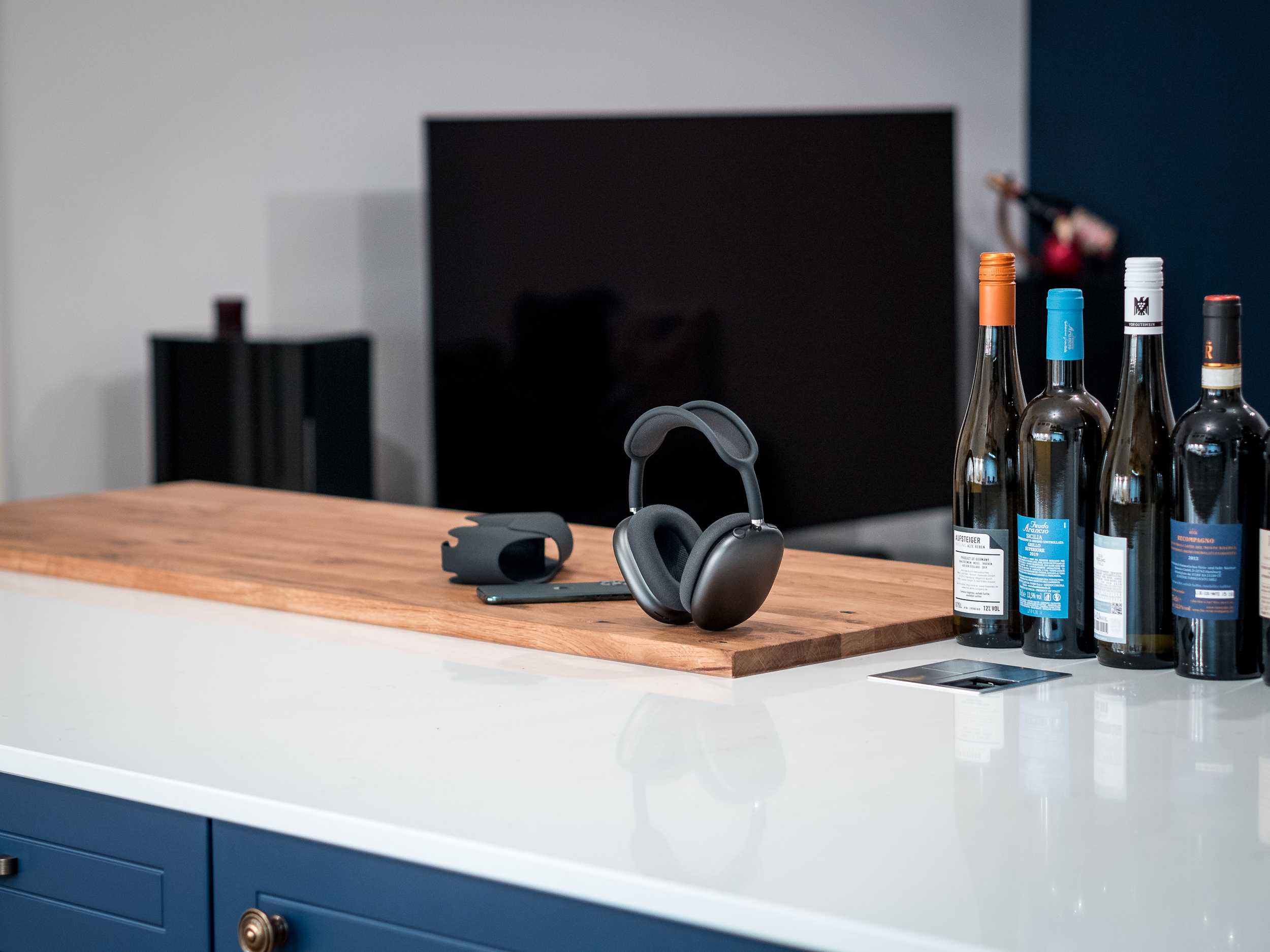 NTS Kicking In
As negative as my sound description may seem, you should know I was racing against the clock. I already noticed New Toy Syndrome (NTS) slowly kicking in after a few paragraphs. In case you didn't know, NTS is how you describe the effect when you start having exuberantly positive feelings towards your newest purchase. Some mistake this effect with Burn-In as they noticed how their newest audiophile addition starts sounding better. Actually, it's just your mind adjusting. The same is happening with me right now. Thus it's important to bring the impressions into relation.
How Much Sound Can You Get for 600€?
If sound quality is your priority and you have at least one decent source (DAC/amp), then this amount of money can get you very far. Let's start with Dan Clark Audio. The new company by "MrSpeakers" creates amazing planarmagnetic headphones and the closed Æon is his most affordable one. For just $449 you can grab the re-tuned version. Great isolation, high comfort, superb sound. You can expect a clearly superior tuning that works with all genres and a tightness to the sound that is far above the APM. It's not a very portable design, though, so this headphone is best used at a desk or mixing console.
Another contender for closed alternative is the Neumann NDH 20 at 499 €. Just as with the AirPods Max, the tonality isn't fully correct to my ears. But the speed, attack, resolution and soundstage are heaps above and it's infinitely more likely that you will have that jaw-dropping sonic bliss moment compared to the APM.
Even cheaper, but unfortunately discontinued, my beloved Oppo PM-3 throws the AirPods Max out of the park. There is no single measurable audio quality in which the PM-3 wouldn't easily outperform the APM. Why would Oppo give this up? Apparently there is a successor that uses the same driver and also has Bluetooth: the wireless Drop + THX Panda is listed for $399.
Cheaper Alternatives
As a consumer headphone, the APM are actually quite good. But to be really honest, sonically, I think the SoundMAGIC Vento P55 V3 (~129€) are just as good – they also have a similar tuning. The Headphone Show mentions the AKG K371 as another wired choice, which is priced around the same. Going wireless does not necessarily mean poor sound quality, though. Check out my review of the HiFiMAN Ananda-BT if you are looking for a wireless headphone for sound quality alone. Beyerdynamic is also building up an attractive portfolio of wireless products, though personally none have fully convinced me personally yet.
But of course, you're not paying for the sound quality with the APM. You're paying for the newest ANC tech and convenience. The AirPods Max do damn well in that regard. So a more just comparison would include Bose QC35 II, Sony WH-1000XM4, Sennheiser PXC 550-II, etc. I'm leaving this comparison to the more consumer-oriented reviewers on YouTube. The consensus seems to be that yes, the AirPods Max are more expensive, but they're also better.
Verdict
There's basically nothing I can tell you that you don't already know. They're good headphones, but please do not buy them for the sound quality alone, thinking you will automatically become an audiophile or hear details that you've never heard before. Also Beats by Dre's infamous marketing slogan "hear what the artists hear" is still not true for the AirPods Max, though probably closer to it than most – if not all – consumer headphones found at your electronic discounter.
The main selling point is convenience. The way the AirPods Max integrate in the eco system, how well the ANC works and how easy you can switch to transparency or adjust the volume. That are the quality of life improvements you are paying for and I don't think I will regret that decision anytime soon.
Thanks for reading. If you like my photos, follow me on Instagram.

@16bitaudiophile